in the aftermath of last Friday's OPEC meeting,
oil prices crashed to a 7 year low on Monday
and continued falling from there, while
natural gas prices fell below $2 for the first time since early 2012
on forecasts of continued warm weather...we'll start by including 18 months charts on both, so the numbers will have some perspective...
the first graph shows the past year and a half track of the January contract price per barrel of the US benchmark oil, West Texas Intermediate (WTI), when it's stored at or contracted to be delivered to the oil depot in Cushing Oklahoma..
.as we noted last week
, oil prices fell from over $41 a barrel to $39.97 a barrel after the Friday OPEC meeting, which confirmed their oil production status quo...apparently after thinking about what OPEC was doing over the weekend, traders came back and sold, driving the price down an additional 6% to $37.65 at the close on Monday... oil prices then inched up by 20 cents on Tuesday but fell again to close at $37.16 a barrel on Wednesday,
even after a bullish EIA release on Wednesday showed a surprisingly large drawdown of US oil stocks
...oil prices then slid again on Thursday, after
the International Energy Agency (IEA) said it expected oil prices to remain low until 2017
due to an ongoing oversupply of oil exacerbated by Iran's return to the global oil market...in the wake of that advice to consuming nations, and with a new report out that
OPEC pumped more oil in November than in any month since late 2008
, exceeding the ceiling they set last Friday, oil prices continued to fall Friday and were at $35.36 a barrel when this screenshot was taken at 7 PM, although they reportedly closed at $35.62...U.S. oil prices last settled this low in February 2009 and
are very close to an 11 year low
, while international oil prices as benchmarked by
Brent crude fell to $37.93 a barrel, a price not seen since December 2008
...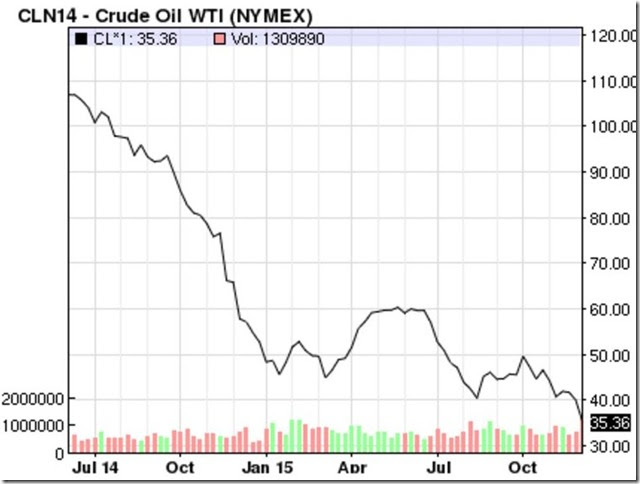 the next graph shows the 18 month track of the contract price for a million British thermal units (mmBTU) of natural gas at or contracted to be delivered in January at the Louisiana interstate natural gas pipeline interconnection known as the Henry Hub, which has become the benchmark for setting natural gas prices across the US... this contract for natural gas closed last week at $2.186 and tumbled to close at $2.067 on Monday as part of a broad commodity selloff led by oil...its price stayed within a half a cent of that for the next two days, until the release of
the Weekly Natural Gas Storage Report
by the EIA on Thursday... that report showed our working supply of natural gas in underground storage at 3,880 billion cubic feet, off just 76 billion cubic feet from the prior week, at a time of year when gas supplies are expected to be drawn down faster...those supplies were also still near the all time peak of 4 trillion cubic feet we saw a few weeks back, and 15.3% above the 3,366 billion cubic feet of gas stored in the same week last year...that drove the price for gas to $2.015 mmBTU at the close Thursday, and that hangover, combined with
forecasts for record warm temperatures in the eastern US
for the weekend and days following, finally drove the price to the $1.980 mmBTU close you see below...moreover, spot prices in New York, which are normally higher than the contract price,
plummeted below $1/mmBtu for most of the day
, and
Marcellus shale pipeline gas prices traded as low as 48 cents/mmBtu
...so stranded natural gas in Pennsylvania has become like zucchinis in summer; everyone has too much, and they just can't give it away...
the last time we looked at gas prices
, we were looking at contract prices for December; and at that time that price was around $2.15 per mmBTU...trading of those December contracts expired the next week, three business days prior to the beginning of December...since that time, the quoted price for natural gas has been referencing this January contract, which had been trading between 10 and 15 cents higher than December gas, not unusual because natural gas demand is typically highest in January...so while the media is correct in saying that
this is the lowest price for natural gas since early 2012
, the contract that was trading at that time was for delivery in April...there is no time in our recent fracking history when January gas ever traded this low...in fact,
we have to go back 22 years to find
January natural gas as low as $2.01 per mmBTU
...
Oil Exports and the Budget Bill
the oil exports rider to the Omnibus budget bill that we alerted you about a few days ago is still unresolved, but it looks from here like it will be part of the final package…here's how we got here: with no Federal budget passed for the Federal fiscal year 2015 beginning October 1st,
Congress avoided a government shutdown on September 30th by passing a stop-gap bill that kept the government running until December 11th
...in addition to the regular budget bill that funds all the discretionary spending the government undertakes, there was also a package of so-called tax extenders, such as tax breaks for Puerto Rican rum, a tax exemption for NASCAR tracks, and more than 40 other similar provisions that Congress manages to renew every year but are not part of the code, that had not been pushed through yet, so far this year...so the budget and the tax breaks were taken up together as an omnibus spending and tax package this week, and although it's still a few weeks early, such a package is like a Christmas tree for congresscritters, because it must pass, and the President must sign it, and thus they can hang just about anything they want to push through on it that would ordinarily not see the light of day as a stand alone bill...
early on,
there were a lot of unreasonable and nonsense propositions added to this year's Omnibus bill
, especially by the far right in Congress, such as defunding air and water pollution control, preventing Obama from easing ties with Cuba, deregulating the financial industry, repealing parts of Obamacare, and so forth...negotiations between the Administration and the leadership of both parties weeded much of that out by Friday, but they were still unable to pass a complete bill that everyone could agree to, so
at the last minute on Friday they passed a "continuing resolution" to keep government agencies open until Wednesday of this week
, by which time they hope to finish it and go home for the holidays...while the provisions dismantling Obamacare and defunding Planned Parenthood have been removed,
the repeal of the 40 year old ban on oil exports is still included
, and it appears Democrat votes for that provision can be garnered
if the Republicans agree to indexing the Child Tax Credit and to extend the solar and wind tax credits for as long as five years
...from here, it looks like a deal will be cut, and oil exports and the environmental degradation that go with them will be part of the final package...and we can't imagine that Obama would veto a budget bill and risk shutting down the government just to have the final say on that single matter...
The Latest Oil Data from the EIA
this week's oil stats from the US Energy Information Administration don't add up...they show a large jump in oil imports, an insignificant decrease in oil production, a small but significant decrease in oil used by refineries, and a large drawdown of our oil that was in storage...checking
our oil exports for the week
, they appear to be unchanged, but the weekly data given looks like estimates and are probably an inaccurate representation of what might have happened...at any rate,
our field production of crude oil
slipped to 9,164,000 barrels per day in the week ending December 4th, a decrease of 38,000 barrels per day from the production rate of 9,202,000 barrels per day during the week ending November 27th...while this week's oil output was below that of most weeks during November, it was above every week but one in September and October, and it was half a percent above the 9,118,000 barrels per day output in the same week last year, when most oil drillers were still running a large fleet of drilling rigs...
in addition, during the week ending the 4th,
US imports of crude oil
rose to an average of 8,021,000 barrels per day, an increase of 274,000 barrels per day from the previous week and only the third time our imports of oil have topped 8 million barrels per day this year....this week's oil imports were 4.6% higher than the 7,668,000 barrels per day we imported in same week a year ago, and brings our 4 week average of imports up to 7.5 million barrels per day, which the
weekly Petroleum Status Report
(62 pp pdf) tells us is unchanged from the same 4 week period last year...
meanwhile, the amount of crude used by our refineries fell by 151,000 barrels per day to an average of 16,652,000 barrels per day during the week ending December 4th; that was after a big jump of 423,000 barrels per day during the week ending November 27th, and it's still at a refinery throughput level a bit above last December 5th's 16,627,000 barrels per day, as
the US refinery utilization rate
fell to 93.1%, down from 94.5% last week...oddly, though, both
production of gasoline
and
production of distillate fuels
(diesel fuel and heat oil) rose, with gasoline output up by 117,000 barrels per day to 9,869,000 barrels per day, and output of distillates up by 60,000 barrels per day to 5,228,000 barrels per day...that boosted our week
ending supplies of gasoline
by 786,000 barrels, as supplies of gasoline rose from 216,867,000 barrels as of November 27th to 217,653,000 barrels as of December 4th, which kept gasoline inventories right near the top of the average range for this time of year...with so little consumption of heat oil,
distillate fuel inventories
jumped by almost 5 million barrels, rising from 144,415,000 barrels as of November 27th to 149,413,000 as of December 4th, which also left distillate fuel supplies in the upper half of their normal range for this time of year...
now, here's what doesn't make sense: even though our imports of crude were up by 274,000 barrels per day and our refinery usage of crude was down by 151,000 barrels per day, the EIA data for
our inventory of crude oil in storage
, not counting what's in the government's Strategic Petroleum Reserve, fell by 3,569,000 barrels to 485,856,000 barrels as of December 4th, the first drop in 11 weeks, after our inventories of crude rose by more than 1.1 million last week, when imports were lower and refineries used more oil...while that's a discrepancy, it's not a concern, as oil inventories are usually drawn down near year end to avoid extra taxes anyhow, and the oil we had in storage this week was still 27.6% higher than the 380,789,000 barrels we had stored at the first weekend in December last year...and its still the most oil we ever had stored anytime in December in the 80 years of EIA record keeping, which had never seen more than 400 million barrels stored any time of year before this year...moreover, the EIA was out with a report this week that indicated that
the import protection provided by our strategic and commercial stocks is currently at 450 days
...
Latest US Rig Counts
there were 28 fewer rigs drilling for oil and gas in the US the week ending December 11th, the largest one week drop since we shut down 29 rigs in the week ending October 2nd....
Baker Hughes reported
that their count of active oil rigs fell by 21 to 524, and active gas rigs fell by 7 to 185, leaving a total of 709 rigs working at the end of the week, which was down from a total of 1893 rigs that were in use in the same week a year ago, with oil rigs down by 1022 from 1546, and gas rigs down by 161 from 346...two more Gulf of Mexico rigs were shut down this week, leaving the offshore count at 23, down from 60 a year earlier...
both horizontal and vertical rigs were shut down this week, while the number of directional rigs was unchanged from last week's 64, which was still down from the 196 directional rigs that were in use the 2nd week of December last year...15 horizontal rigs were stacked this week, leaving 554, well less than half of the 1367 horizontal rigs that were working a year ago...13 more vertical rigs were pulled down, leaving 91, down from 330 a year earlier...
of the major shale basins, the Permian of west Texas again took the largest hit, with 13 rigs stacked, still leaving 204, which was down from 548 last year at this time...4 rigs were pulled out of Ohio's Utica shale, leaving 16, down from 50 a year ago...2 rigs were pulled from both the Williston basin of North Dakota and from the DJ-Niobrara chalk of the Rockies front range, leaving the Williston with 58, down from last year's 188, and the Niobrara with 23, down from last year's 60...and Oklahoma's Arkoma Woodford, Arkansas's Fayetteville, and Louisiana's Haynesville each saw one rig idled; that left the Arkoma Woodford with 8, up from 5 last year, the Fayetteville with 3 rigs, down from last year's 6, and the Haynesville with 27, down from last year's 43...meanwhile, the Granite Wash of the Oklahoma-Texas panhandle region saw one rig added, but with 14 rigs working, they were still down from the year ago 57, while two rigs were added in Oklahoma's Cana Woodford, which now has 37, down from 43 a year ago...
the Baker Hughes state count tables
show that Texas saw the greatest rig reduction, as their net count was down by 9 to 324, which was down from 872 a year earlier...both Ohio and New Mexico were down by 4 rigs; Ohio down to 15 from last year's 47, and New Mexico down to 36 from last year's 101...North Dakota was down 2 rigs to 58, which was down from 179 a year earlier, and Colorado was also down 2 to 25, and down from 68 a year earlier...Alaska, Arkansas, Utah, West Virginia and Wyoming all saw 1 rig pulled out, that left Alaska with 11, up from 10 a year earlier, Arkansas with 3, down from last year's 9, Utah with 3, down from last year's 23, West Virginia with 13, down from the year ago 33, and Wyoming with 21, down from the year ago 58....in the meantime, two states saw 1 rig added this week; Pennsylvania, with 30 rigs, is still down from the year ago 54, while Oklahoma with 85, is still lower than last year's 211 active rigs..
Global Rig Counts
this week also saw the monthly release of
the global rig count for November
, which unlike the weekly count, is an average of the number of rigs running in each country for the month, rather than the month end total...November saw an average of 2,047 rigs drilling for oil and natural gas around the globe, which was down from 2,086 rigs in October and down from the 3,670 rigs that were in use in November of last year...the lions share of the rigs that were pulled during the month came from the US, which saw 31 fewer rigs in November, and saw their total rig count average drop from 1925 last November to 760 with this report...in addition, the Canadians saw a net reduction of 6 rigs from October, and with an average of 178 rigs deployed during the month, they were down from the 421 rigs in use in Canada in November of last year...
the Middle East region saw an increase in drilling activity for the 4th month in a row, as their active rig count rose by 16, from 403 in October to 419 in November, with 59 of those active drilling offshore in the Gulf region, up from 54 offshore in October and 45 offshore a year ago, as the total active rig count the Middle East is up from the 403 rigs being used in the region in November a year ago....Egypt saw the largest increase, up 5 rigs to 45, but that was still down from the 53 rigs that were drilling in Egypt last November...Oman saw an increase of 4 working rigs, from 68 in October to 72 in November, and they're up from the 58 rigs deployed in the country a year ago...Abu Dhabi in the United Arab Emirates also added 4 rigs in November; they're now running 52, up from 37 a year earlier…the Kuwaitis added 3, bringing their count back up to 43, the same number they had in use last November, while the Saudis added 2 rigs to bring their total active drilling rig count up to 127, from the 102 rigs that were drilling in the Kingdom last November...the only rig reductions in the region were in Pakistan, where they idled 2 and now have 21, down from last November's 22, and in Qatar, where their 5 active rigs were down from last month's 6 and down from the year ago 9...
meanwhile, the Latin American countries saw a reduction 10 rigs, after shedding 27 rigs in October, as the region averaged 284 rigs in November, including 52 offshore, down from a total of 375 rigs, including 83 offshore rigs, in November of 2014....Colombia saw the largest pullback in November, down 5 rigs to 15, which was down from 48 rigs that were in use in Colombia a year ago...Argentina idled 4 rigs; they're now running 101, down from 104 in November of last year...Bolivia was the only Latin American country to see an increase in drilling, as they added two rigs, now have 7 working, the same as they had a year ago at this time...
elsewhere, the Asia-Pacific region had 208 drilling rigs working in November, down from 213 in October and down from 255 last November...the most notable change in the region was in India, where they reduced their 110 rigs to 105, which was down from 117 rigs a year ago, while Australia idled 2 rigs, leaving 14,down from 20 a year earlier...the total count of rigs drilling in Africa was down by 3 to 90, which was down from the 142 rigs that were working on the continent in November a year earlier...Angola, down 3 to 9, was the only African nation with a rig variance greater than 1, as Angolans were down from 13 rigs a year ago...lastly, the rig count in Europe was unchanged from October at 108, and down from 149 a year ago, as the United Kingdom idled two offshore rigs, leaving them with 12 offshore, down from last year's 17, while Poland added 4 rigs to bring their count up to 12, up from 7 a year earlier, and were the only truly European country to see a year over year drilling increase, although Sakhalin island, a Russian island north of Japan, is included in the European count, and was up from 7 rigs last year to 8 now....note that Iran, Russia, and China are not included in
Baker Hughes international data
, although China's offshore, with 28 rigs active in November, is...
Al Jazerra Fault Lines: Earthquake State
this past week i was afforded the opportunity to pre-screen
"Earthquake State" a new episode from the Fault Lines documentary series on Al Jazeera America
, which will be
airing nationally for the first time tonight
...as you all know, Oklahoma has serious man-made earthquake problem, and it's been getting worse...from an average of less than two magnitude 3 earthquakes per year before 2009,
the number of earthquakes of such magnitude rose to 109 in 2013, to 585 in 2014
, and to
over 2 per day this year
...if we include the smaller magnitude quakes that are generally not noticed on the surface,
their year to date earthquake count has now topped 5,000
, making Oklahoma the most seismically active spot on the planet...it was that situation that prompted Al Jazeera investigative journalist Josh Rushing and the Fault Lines TV crew to head to Oklahoma this summer to cover the story...
we know these quakes are caused by injection wells; as such induced seismicity has been documented by several USGS studies and was included in
the USGS seismic hazard model for 2014
, a once every six year
14.4 MB PDF Tome from the USGS
, which
we covered in detail when it was released
....the Al Jazeera take on this Oklahoma story was interesting, but for my purposes, i would have preferred to have seen some detail on how the injected water causes the quakes in that state, ie, what's the formation that's typically targeted with injection wells, as how it's laid out in that area in such a way that the water pressure from the injection wells causes slippage of the underlying bedrock...i've seen such diagrams on at least two Ohio manmade earthquakes, and i think understanding how these quakes take place, and how certain we can be that it is the injected water or fracking pressure that caused the quake, would be important to advancing public understanding of what is going on...for instance, in the case of the Poland, Ohio quake,
you can line up the formation being fracked with the exact location and depth of the earthquake that happened at the same time
, which removes all doubt that the water injected at high pressure has caused these quakes...the connection is not just a smoking gun; it's like watching in slow motion as a bullet travels through the air to it's target...
at any rate, what Fault Lines failed to cover about the technical nature of the induced seismicity, they made up for in covering the politics behind why so little has been done up till now to stop these earthquakes....my takeaway from watching this Fault Lines episode is that Oklahoma politics is worse than i thought, and as you all know by now, i usually think it's worse than it is...nothing that would impede the oil industry had ever been discussed in the state legislature; and that
we see Conoco and Halliburton are imprinted in large raised letters into the rotunda of the Oklahoma statehouse
just about sums why...Oklahoma Governor Mary Fallin and other authorities claim they're waiting to see the science, but they cut the budget of the Oklahoma Geological Survey, the state agency responsible for that science, down from $50,000....in 2013, the state seismologist, Austin Holland, who was attached to the University of Oklahoma, put his signature on a statement with USGS scientists linking earthquakes to the state's injection wells; he was immediately called into a meeting with the university president David Boren and
the notorious billionaire oilman Harold Hamm
, who warned him to watch how he says things...since Hamm was a major contributor to the University, and Boren was on the board of directors of his oil company, Holland was forced to back down and remained silent, at least until the time the Al Jazeera team arrived...he is prominently featured in this episode, and to his credit, understood his situation well enough that he resigned in August, with Al Jazeera TV crews still on the scene...thus as this episode wraps up, Holland is packing up his books to leave, the lights in his office and the broom closet where the ancient server is housed are turned off, and Oklahoma, the most seismically active state in the country, is left without a state seismologist as the earthquakes rumble on...
so FYI,
here's a minute and a half preview
of the show that will be on tonight at 9 EST...and
here's a gadget where you can type in your zip code and find all the channels that it will air on in your area
...you'll get to see a major earthquake occur during the first 8 minutes of filming...
(NB: at least a hundred links to fracking related news stories from the past week are included
here
)