most of you probably know by now that a provision to repeal the 40 year old ban on US oil exports was included in the bipartisan budget bill that passed this week...as you'll recall from our discussion last week, this bill was the regular annual budget bill, delayed since October 1st, that funds all the discretionary spending the government undertakes over the year, from defense to the EPA, but not including non-discretionary entitlements such as social security...since it's an absolute must pass bill, all the congresscritters try to hang whatever they might want to push through on it, proposals that would otherwise not be viable as stand alone legislation...such as it is, this creates the incentive for most congresscritters to vote for the entire package, because although it may have provisions they'd otherwise oppose, they've got their own high priority rider attached that they couldn't get through otherwise...
thus, while there was undoubtedly much more horsetrading behind the scenes than was covered in the press, what basically happened is that the Democrats traded their votes for the repeal of the oil export ban for Republican votes in favor of extending tax subsidies for wind and solar for another five years, with a gradual phase out of those subsidies thereafter...Republicans also agreed to free up a $500 million payment to a trust fund for developing countries as part of the Paris climate deal....this deal was completed late Tuesday night, and by early Wednesday morning congresscritters were presented with 2242 pages of legislative text and over 1000 pages of explanatory material...then, after a thorough & thoughtful reading and discussion, the $1.15 trillion spending bill and $680 billion package of special interest tax-breaks was passed by the House on a 316-113 vote early Friday morning, hurriedly followed by Senate passage by a 65-33 vote, in plenty of time for them to all make the afternoon flights out of DC for the Christmas recess...Obama, who was staying in Washington, then put his signature on that bill later that afternoon...
so, henceforth, US & international oil companies will have free reign to frack for oil anywhere and everywhere in this country with the clear knowledge they can sell it to the highest bidder, be they in Europe, Japan, or China...as a practical matter, since we are still importing oil at well over a 7 million barrel a day pace, every barrel we export will have to be replaced by additional imports, except to the degree that our drilling and fracking increases to meet foreign demand... the American Petroleum Institute estimates that our domestic production of crude will increase by up to 500,000 barrels per day over what it would otherwise be without exports, that investment in oil infrastructure would increase by $70 billion, ultimately adding 300,000 more jobs in consumer products and services and hydrocarbon production by 2020...Oil Change International, an advocacy group committed to exposing the true cost fossil fuels, concurs with the API in that they estimate unfettered oil exports could add an additional 467,000 barrels a day to our production, raise the price of crude and it's products in the US, and eventually double the oil bomb-train by rail traffic from today's levels...ultimately, we'll end up draining American oilfields first, before those anywhere else, and end up paying Russia and OPEC five times as much for whatever oil our country still might need someday in the future..
all that notwithstanding, at today's international price for oil (under $40 a barrel), there isn't going to be a lot of new drilling in the near future to supply those international markets...remember, early this year, Bloomberg showed that 97% of US fracking operations were unprofitable below $50 a barrel...while there have been much touted efficiency gains since then, the fact that US oil production is unprofitable at levels even up to $60 a barrel was born out by 2nd quarter and 3rd quarter financial reports from the oil companies, when most reported significant losses...what we may see is some outsourcing of refinery work, where the international oil companies ship oil to their lower cost refineries in Asia or the Caribbean, possibly importing the gasoline that is thereby produced while selling other products elsewhere (it's for that reason that a tax credit for oil refiners was also added to the budget bill)...there has also been talk of some initial shifting of crude around to better optimize refinery throughput; such as shipping Bakken crude from North Dakota to Europe, where their refineries make optimum use of such a light grade, and importing more Venezuelan crude or Basra Heavy from Iraq to process in Gulf Coast refineries, both of which sell at a discount to the lighter grades....however, any profits from such shifting will just accrue to the oil company's bottom lines and is unlikely to benefit anyone in our neighborhood..
to show how US and international oil prices have played out as the lifting of the export ban approached, we'll include a graph of the difference between the benchmark US oil price (WTI) and the benchmark global price (Brent) below...the graph comes from Jack Kemp, energy analyst with Reuters...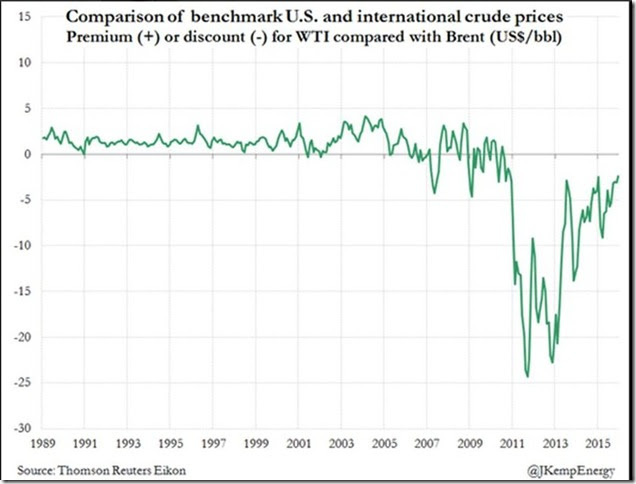 the above graph shows the monthly difference in the average price between the US benchmark oil, WTI (West Texas Intermediate), and the international benchmark of Brent oil, named after a North Sea oilfield, over the period from 1989 till November...the types of oil are very comparable, both are light sweet grades, meaning they're less dense and lower sulfur than other grades, and typically produce more gasoline and distillate grade fuels when refined...when the US price was higher, it's shown as a positive number of dollars above the zero line; when the US price was lower, as it has been recently, it's shown as a negative dollar amount below the zero line..
what we can see from the above graph is that before fracking became widespread, US prices for oil were typically in a range averaging around $2 a barrel more than international prices; this was because there was a limited supply of domestic crude, and to make up the shortfall refiners had to import, and $2 generally represented the average cost of shipping suitable grades of oil from the Middle East, Africa or South America...then as fracking became widespread, the light grades of crude oil thus produced were in surplus in the US, and without the ability to export them, their prices fell, a glut developed, while some refineries that were designed to process sour or heavy crudes continued to import those...more recently, as it became clear that the push to allow exports might pass, the international price of oil fell even faster than the US price, and the price differential has closed, and for the most of this week the international price has averaged just $2 more than the US price...
since the chart above only shows the difference in price between the two types of oil, we'll include 5 year charts of both side by side, so you can see how that played out in terms of actual prices...these graphs should also load separately if you click on them...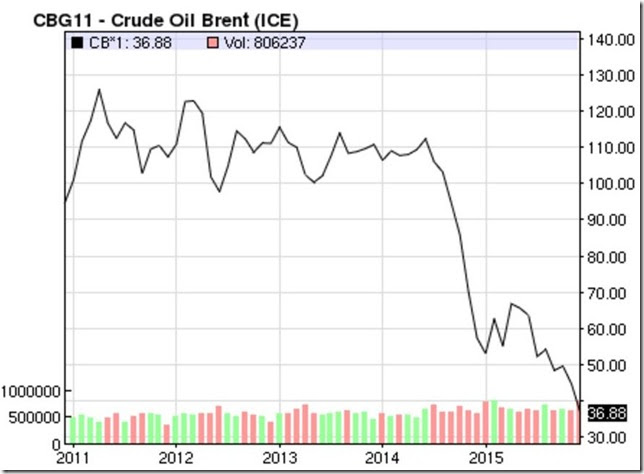 This Week's Oil & Gas Prices
contract prices for both oil and natural gas closed lower this week, with oil closing at a new low for this cycle, as you can see above, while natural gas saw it's lowest price ever on an inflation adjusted basis...after falling roughly 10% to $35.24 a barrel last week in a reaction to news from OPEC, US oil prices rose by more than a dollar a barrel on both Monday and Tuesday as it became clear the move to allow unfettered oil exports would be included in the budget bill, ultimately closing at $37.35 a barrel on Tuesday...but on Wednesday, the EIA's weekly Petroleum Status Report showed a large jump in oil & oil product inventories, and traders suddenly remembered that we have a huge glut of oil on our hands, and oil fell to close Wednesday at $35.74 a barrel...that inventory building continued to weigh on prices Thursday as prices fell to close at $35.94, but prices rose again Friday morning as the budget bill, including the repeal of the oil export ban was passed...that rally was not to last, however, as Baker Hughes showed the largest increase in oil rigs in 5 months, and oil prices crashed again in the afternoon to close the week at $34.73, having come within a whisker of the 2009 lows...
meanwhile natural gas prices fell every day this week except Friday, when they rebounded slightly to close the week at $1.767 per mmBTU, after closing Thursday at $1.755 per mmBTU, the lowest price ever on an inflation adjusted basis, and the lowest actual price for a January natural gas contract in 21 years of NYMEX trading....after closing last week at $2.015 per mmmBTU, they fell to $1.894 on Monday after weekend forecast showed warm weather would continue in the Eastern US...a forecast of 65 degrees in New York on Christmas day contributed to their drop to 1.822 mmBTU on Tuesday, the lowest since 1999 and the second lowest price on record on an inflation-adjusted basis...gas prices then fell another 1.8% to close at an all time inflation-adjusted low of $1.79 mmBTU on Wednesday, but it didnt stop there, as the Weekly Natural Gas Storage Report from the EIA showed a slim drawdown of 34 billion cubic feet, leaving 3,846 billion cubic feet of gas still in storage, the most ever for the 2nd week of December, and 16.4% more gas than was stored the same week last year, raising fears that we'd run out of storage space for gas when the weather turned warmer...we're including a graph of the NY mercantile exchange prices for January delivery of natural gas over the past three months below, so you can see how rapidly the price has dropped over than short span...we'd have to go back to 1999 to find contract prices for natural gas this low at any time of year..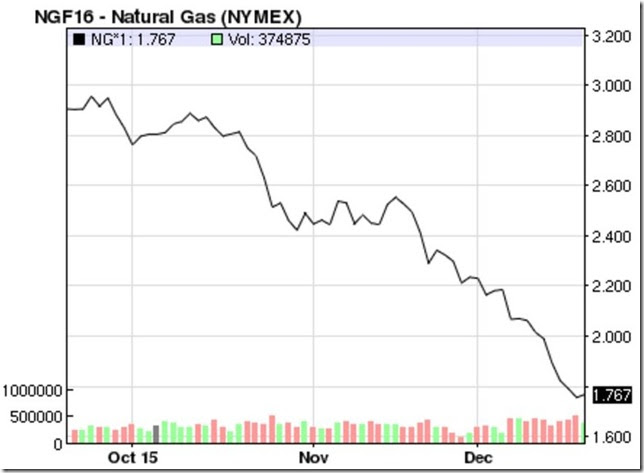 the graphic below from the EIA clearly shows why such a glut of natural gas has developed...it shows the output in billions of cubic feet per day from each of our gas producing shale basins from 2000 to October of this year, color coded and stacked on top of each other such that the top of the Marcellus output in green represents the total daily output of gas nationally over that period...from an output near 5 billion cubic feet a day in 2008, mostly from the Barnett in Texas, gas production increased to 10 billion cubic feet a day by 2010, to nearly 20 billion cubic feet a day by 2011, and to nearly 40 billion cubic feet a day by 2014....even after a glut of gas developed in the warm winter of 2012 and drove prices down to $2 per mmBTU by March of that year, there was barely any sign of a pullback; natural gas production continued to grow like bacteria in a petri dish...the "polar vortex" winters of early 2014 and 2015 may have saved them from a price crash then, but facing an El Nino winter, when gas consumption promises to be low, they're still producing gas like they're expecting a new ice age…the catch 22 for these gas frackers is that the more methane they release into the atmosphere from their fracking operations, the faster the planet will heat up, and the less of their gas consumers will need to use to heat their homes...
The Latest Oil Stats from the EIA
this week's reports from the US Energy Information Administration showed a new two year high in oil imports, a small increase in our crude oil production, a small reduction in refinery use of that crude, and another large jump in the surplus oil that we've got stored....for the week ending December 11th, our imports of crude oil rose by 291,000 barrels per day to 8,312,000 barrels per day, the most oil we've imported in any week since September 2012...thus, this week's imports were 17.0% above the 7,104,000 barrels per day we imported in the 2nd week of December last year, and brought our 4 week average of imports up to 7.9 million barrels a day, now 6.3% more than we imported in the same 4 week period last year...tell me again, why should we be exporting oil?
in addition, our field production of crude oil was at 9,176,000 barrels per day in the week ending December 11th, a slight increase of 12,000 barrels per day from the production rate of 9,164,000 barrels per day during the week ending December 4th...that is still 0.4% above the 9,118,000 barrels per day output in the same week last year, when most oil drillers were still running a large fleet of drilling rigs...looking at oil production over the last 6 or 7 weeks, it appears to be settled into a range about 50,000 more barrels per day than our level of crude production during September and October...
meanwhile, net U.S. crude oil refinery inputs averaged 16,611,000 barrels per day during the week ending December 11th, 41,000 barrels per day less oil than our refineries used during the previous week...that was still at a refinery throughput level 1.9% above last December 12th's 16,301,000 barrels per day, even though the US refinery utilization rate fell to 91.9%, down from 93.1% last week...our production of gasoline increased by 94,000 barrels per day to 9,963,000 barrels per day, which was the greatest refinery output of gasoline since the 2nd week of August, despite refinery utilization rates as high as 94.5% in the interim...our production of distillate fuels (diesel fuel and heat oil) fell, however, as output of distillates were at 5,107,000 barrels per day during the week ending December 11th, down from 5,228,000 barrels per day during the week ending December 4th...even so, with reduced consumption of heat oil during the week, our distillate fuel inventories increased by another 2,563,000 barrels, on top of last week's 5 million barrel increase, as they rose from 149,413,000 barrels as of December 4th to 151,976,000 barrels on December 11th, leaving distillate fuel supplies well into the upper half of their normal range for this time of year...our week ending supplies of gasoline also saw a big jump, rising by 1,731,000 barrels, from 217,653,000 barrels as of December 4th to 219,384,000 barrels as of December 4th, which also kept gasoline inventories solidly the upper half of their normal range for this time of year...
so, with our oil field production holding steady and our refinery throughput lower, that big jump in oil imports served no immediate useful purpose, and hence had to be added to our already monstrous glut of stored oil...moreover, it appears that almost all the imports, or 8 million additional barrels, went into storage in the Gulf Coast PADD, even though oil inventories in that region are usually drawn down near year end to avoid inventory taxes in Louisiana and Texas...at any rate, our total inventories of crude oil in storage, not counting what's in the government's Strategic Petroleum Reserve, rose by over 4.8 million barrels, increasing from 485,856,000 barrels on December 4th to 490,657,000 barrels on December 11th, the 11th increase in the last 12 weeks...that's up by 36,688,000 barrels since September 18th, and leaves us with 110.7 million more barrels, or 29.1% more oil in storage, than the 379,942,000 barrels we had stored at the end of the second week of December a year ago...so we now have the most oil we ever had stored anytime in December in the 80 years of EIA record keeping, which had never seen more than 400 million barrels stored before this year, and we're closing in on the all time inventory record of 490,912,000 barrels set on April 24th this spring...
Latest US Rig Counts
this week's rig count from Baker Hughes provides us an anecdote on how short-sighted some US oilmen can be...despite US oil prices that have been below $40 a barrel for more than 2 weeks, and international prices that have been below $42 over that span, upon hearing that the export ban would be lifted, the frackers appear to have gone out and started up the most oil rigs they've added since late July, at a time when oil prices had rallied above $60 a barrel....the total number of rigs drilling for oil increased by 17 to 541 during the week ending December 18th, after the oil rig count had previously decreased for four consecutive weeks...the total rig count was unchanged from last week, however, as 17 gas rigs that had been working last week were pulled out, leaving 168 gas rigs still active...those totals were down from 1536 oil rigs, 338 gas rigs and 1 miscellaneous rig that were active as of the third weekend of December a year ago, as the rig count at that time had already fallen from the peaks in October and November...
of the rigs started this week, one was offshore in the Gulf of Mexico, where there are now 24 active, down from 56 in the Gulf and 58 total offshore a year ago...however, we did see a drilling rig pulled from an inland lake in southern Louisiana, so there is now only one rig operating on inland waters, down from 12 a year ago... 4 vertical rigs were shut down this week, leaving 87, which was down from 324 vertical rigs in the same week a year ago...the directional rig count was reduced by 1 to 63, down from the 195 directional rigs that were in use the 3rd week of December last year...meanwhile, the frackers added 5 horizontal rigs, bringing the active horizontal rig count back up to 559, which was still less than half of the 1356 horizontal rigs that were working a year ago...
of the major shale basins, the Permian of west Texas saw 2 rigs added, after that basin had seen the most rig reductions over each of the past five weeks; that brought the Permian up to 206 rigs as of December 18th, which was still down from 539 a year earlier...in addition, the Barnett shale of the Dallas area, the Eagle Ford of south Texas, Oklahoma's Cana Woodford, and the DJ-Niobrara chalk of the Rockies front range all saw one rig added...the Barnett now has 8, down from 26 a year ago, the Eagle Ford has 77 rigs, down from 206 a year ago, the Cana Woodford has 38 rigs, down from 45 a year ago, and the Niobrara has 24, down from 59 last year at this time...meanwhile, three basins saw single rig reductions: the Haynesville of northern Louisiana now has 26 rigs remaining, down from 42 a year ago, the Marcellus of Pennsylvania and adjacent states is down to 41, from 82 a year ago, and the Mississippian of the Kansas / Oklahoma border area is down to 11, from the 73 rigs that were drilling in that basin the 3rd week of December 2014...
the Baker Hughes state count tables show that both Texas and Pennsylvania saw their net rig count down by 4, with Texas now with 320 active rigs, down from 868 a year ago, and Pennsylvania with 26, down from 55 a year earlier....Louisiana saw 2 rigs pulled, leaving 58, down from 110 a year earlier, while a single rig was stacked in Wyoming, where there are now 20 rigs active, down from 58 a year ago...meanwhile, 3 rigs were added in West Virginia, which now has 16 drilling, which is still down from 31 a year ago, and 2 rigs were added in Illinois, which had none last week and only one a year ago....in addition, new rigs were added in Alaska, Alabama, Mississippi, Nebraska, Kansas, New Mexico and Oklahoma...Alaska now has 12 rigs, up from 11 a year ago, Alabama now has a rig offshore, while last week and a year ago they had no rigs anywhere in the state, Mississippi has 5 rigs, down from 14 a year ago, Nebraska has 1 rig running, down from 2 a year ago, Kansas has 11 rigs, down from 30 a year ago, New Mexico has 37 active, down from 103 a year earlier, and Oklahoma now has 86 rigs working, down from 205 a year ago...
note: links to dozens of additional related articles from the past week can be found
here
..