oil prices have been quite volatile this past week, dropping almost 4% when the market opened Tuesday, and then later soaring 21% from their Wednesday lows...recall that US crude prices for crude had fallen to 11 year and then to 12 year lows last week, when the contract price for February delivery started the week at $33.55 a barrel and fell to $29.42 by the Friday close, breaching $30 for the first time since 2003...US markets were closed Monday in observance of the MLK memorial holiday, but that oil contract price continued falling when the markets opened Tuesday, and ended the day at $28.46...at the same time, Brent oil, the international price benchmark which had fallen 6.3% on the prior Friday to close 48 cents a barrel below US prices, continued falling on Monday to close at $28.55, but rebounded to $28.76 a barrel on Tuesday...on Wednesday, as trading in the February contract for US crude was expiring, that price fell nearly 7% more to close at $27.55 a barrel, when global markets crashed as the greed sentiment indicator swung all the way to fear...meanwhile, while trading in February futures was closing out, the contract price for March delivery of US crude fell more than 4% to close Wednesday at $28.33 a barrel...with the March WTI contract now being quoted as the US price of oil, prices rose slightly to close at $27.88 a barrel on Thursday, and then rallied on Friday to close at $32.19 a barrel after citibank called oil "the trade of the year"...meanwhile, quotes for Brent oil rose over those same two days, rising to close at $29.25 a barrel on Thursday and to $32.18 at the end of the day on Friday, and hence the gap between the US price and the international price had closed to just a penny by the end of the week...so, to once again put this week's oil price changes in perspective, here's a graph of the March WTI contract oil price over the last three months:
once again, the above graph shows the daily closing contract price per barrel over the last 3 months for March delivery of the US benchmark oil, West Texas Intermediate (WTI), as traded on the New York Mercantile Exchange...as we explained last week, this market is where US oil prices are set, since the daily electronic trading of oil on this exchange is more than 100 times the total volume of physical oil produced in the US…looking at the current end of the graph, you can see all the sturm und drang over the past week has amounted to very little in the end, as oil prices have gone full circle and returned to their level of Thursday the 14th...
as we suggested last week, the primary driver for the dive in oil prices over the past few weeks has been the prospect that oil output from Iran would soon be returning to the global markets, exacerbating the ongoing oil glut...it so happens that the deal to end the sanctions on Iran that would allow its exports to flow was consummated last Saturday evening, probably while we were writing about it a week ago...in the immediate consequence of that, Iran will be increasing its crude output by 500,000 barrels per day over the next few months, which would add another half percent to total global oil supply each day....while that doesn't sound like much in the overall scheme of things, it would be adding substantially to the million and a half excess barrels of oil that producers currently need to find buyers for...facing this oil glut on Tuesday, the International Energy Agency warned that oil markets "could drown in oversupply" after three consecutive years over which oil production exceeded demand by more than 1 million barrels per day...to attempt to put that possibility in perspective, we'll include a few graphics from an oilprice.com article entitled "The World Is Not Running Out Of Storage Space For Oil", which, by the way, isn't very convincing in making the point it's headline asserts...
the above graph shows quarterly levels of global oil production in millions of barrels per day (mb/d, left margin) in green and global oil consumption of that oil in yellow, over the period starting in the first quarter of 2009 (1Q09) to the present, with estimates for both metrics going out to the 4th quarter of 2016 (4Q16)…then behind those ascending supply and demand lines are blue bars essentially showing the difference between the two, or the implied stock change, also in millions of barrels per day (mb/d, right margin); this is the amount of oil that was added to storage for each quarter when the bars pointed up, or the amount of oil that needed to be taken out of storage to meet demand when the blue bars pointed down…you can see that the green supply line has been rising fairly steadily till the recent quarters (end of 2015 is 5th from the right) when it began to turn down…but after the 1st quarter of 2016, green supply begins to rise again as Iranian output is added (as the note at the top of the graph says, they're assuming Iran's output will build up to an extra 600,000 barrels per day (600 kb/d) by June, adding to the 32.3 million barrels per day that OPEC countries are already producing)…demand for oil in yellow exhibits quite a seasonal pattern, up in the summer and down in the winter, and hasn't been rising quite as fast as supply, leading to increases in the quantity left over that needs to be stored, as shown in the blue bars, over the past year and a half, which is projected to continue until the end of 2016…
the next graph we have shows the total amount of oil in storage in the OECD countries (the club of developed countries that are mostly oil importers) over the last two years, as compared to the 5 years prior to that: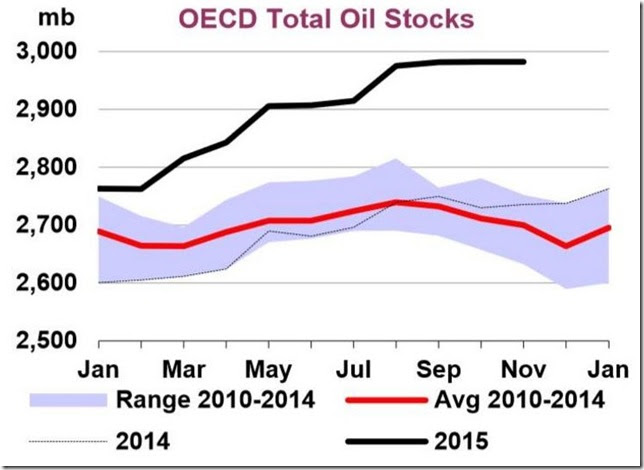 in the graph above, the black line shows the track of total stored supplies of crude oil in millions of barrels held monthly by OECD countries during 2015, while the light blue line shows the track of total inventories of crude oil in millions of barrels held by those countries during 2014...the light blue shaded area represents the range of oil inventories held by those same countries over the prior 5 years for the same time of year, essentially showing us the normal range of oil inventories held by the developed capitalist countries as they fluctuate from season to season, while the red line is the average amount of oil that was held in storage by those countries over the same 5 years, from 2010 to 2014...thus we can see that over the past year, a surplus of stored oil has built up in these developed countries that amounted to over 300 million barrels more than normal as of November, apparently the last date where such global data is available..also notice that this year oil supplies continued to build up slowly during the summer and fall, a time of year when oil inventories would normally be drawn down...
This Week's Stats from the EIA
this week's reports from the US Energy Information Administration showed still another small increase in our production of crude oil, a comparatively large drop in our oil imports, and another modest drop in refining of that crude, which nonetheless ended with a much larger surplus of unused oil left over than last week....our field production of crude oil inched up by another 8,000 barrels per day to 9,235,000 barrels per day during the week ending January 15th, up from 9,227,000 barrels per day the prior week, and once again our highest output of crude oil in any week since the 3rd week of August...that's now the 6th week in row that we've seen our oil output increase, even if only incrementally, as US oil wells continue to produce 1.2% more than the 9,121,000 barrels per day average they produced during September, and 0.5% more than 9,186,000 barrels per day than they produced in the same week a year ago, despite a 70% drop in active drilling rigs from the peak of October 2014 since then...
at the same time, our imports of crude oil fell by 409,000 barrels per day to a 7,779,000 barrels per day pace, partially reversing the 678,000 barrels per day increase in imports we saw during week ending January 8th...the pace of imports for the week ending January 15th was still 7.2% more than the 7,218,000 barrels per day we imported in the same week of 2015, and still left our 4 week average of our imports over 7.8 million barrels per day, which the EIA's weekly Petroleum Status Report (62 pp pdf) tells us is 9.6% higher than our oil imports over the same four-week period last year...
meanwhile, the amount of that crude used by our refineries fell by 233,000 barrels per day to an average of 16,190,000 barrels per day during the week ending January 15th, down from an average of 16,423,000 barrels per day during the week ending January 8th...though that was the 4th consecutive drop in refinery throughput, it was still 8.6% more than a year ago, when refineries processed 14,909,000 barrels per day, and a record for refinery throughput in mid-January, when refineries are normally slowing down for the winter...hence it was no surprise that our refinery utilization rate also fell from 91.2% to 90.6%; by the 16th of January last year, it had already fallen to 85.5%...even so, our gasoline production rose for the 2nd week in a row, surging by 633,000 barrels per day to 9,453,000 barrels per day during week ending January 15th, 2.6% more than the 9,215,000 barrels per day production of gasoline a year earlier...meanwhile, our output of distillate fuels (ie, diesel fuel and heat oil) fell by 208,000 barrels per day to 4,552,000 barrels per day during week ending the 15th, which was also down by 216,000 barrels per day from the same week a year ago...with the increase in gasoline production, our end of the week supply of gasoline in storage rose for the 9th week in a row, increasing from 240,434,000 barrels last week to 244,997,000 barrels as of January 15th...that 4,563,000,000 barrel increase, combined with increases of 10,576,000 barrels and 8,438,000 barrels in each of the last two weeks, made for the largest 3 week increase in our stored gasoline in our history, and left our gasoline inventories well above the upper limit of the average range for this time of year....on the other hand, our distillate fuel inventories finally fell after 3 weeks of mid-winter increases had added 13 million barrels to our distillate stocks, as those inventories fell by 1,025,000 barrels to 164,529,000 barrels, down from 165,554,000 barrels on January 8th…that was still 20.6% higher than last January 16th's 136,579,000 barrels, also putting distillate fuel supplies well into the upper half of their normal range for this time of year...
finally, in what is slowly becoming an anomalous metric, this week saw a large increase in our inventories of crude oil despite the much lower imports, whereas last week's surge in imports barely nudged these supply figures at all...the EIA reported that our stocks of crude oil in storage, not counting what's in the government's Strategic Petroleum Reserve, rose by 3,979,000 barrels to 486,537,000 barrels on January 15th, up from 482,558,000 barrels as of January 8th...that was largely because the "adjustment" on line 13 of the U.S. Petroleum Balance Sheet for the Week Ending 1/15/2016, which is Table 1 in the EIA's weekly Petroleum Status Report (pdf) swung from a deficit of -459,000 barrels of oil per day last week to a surplus of 244,000 barrels per day this week, continuing the ongoing need to use an increasingly large fudge factor to balance this important market moving metric...nonetheless, the 482,558,000 barrels we have stored as of this report is still 22.3% higher than the 397,853,000 barrels we had stored the same week last year (when the adjustment was -87,000 barrels per day), and obviously the most we had stored any time in January in the 80 years of EIA record keeping, which had never seen more than 400 million barrels stored before January 23rd of last year...
The Latest Active Rig Counts
there was just a modest drop in the number of active rigs drilling for oil and gas in the US the week ending January 22nd, as Baker Hughes reported that their count of active oil rigs fell by 5 to 510, and their count of active gas rigs fell by 8 rigs to 127, leaving a total of 637 rigs working at the end of the week, which was down from a total of 1663 rigs that were in use in the same week a year ago, with oil rigs down by 807 from 1317, and gas rigs down by 189 from 316 from that time...those year ago totals from last January 23rd were already well off their peaks; active oil rigs had been as high as 1609 on October 10, 2014, while the recent high for gas drilling rigs was the 356 that were running on November 11th of that same year...
despite the overall decrease, a net of three Gulf of Mexico rigs were added this week, pushing the offshore count back up to 29, which was still down from 54 offshore rigs, and 53 in the Gulf, a year earlier...a net of 11 rigs that had been doing horizontal drilling were removed, leaving 500 rigs still drilling horizontally active in the US, down from 1229 a year ago...2 directional rigs were also removed, leaving 60, down from the 146 directional rigs that were in use a year ago...the count of active vertical drilling rigs, however, was unchanged from last week at 77, still down from the 258 rigs that were drilling vertically on January 23rd of 2015...
of the major shale basins, Haynesville shale of the Louisiana-Texas border region got rid of the most rigs this week, as they were down by 5 rigs to 18, which was down from the 42 rigs that were deployed in the Haynesville a year earlier...next, the Eagle Ford of south Texas was down 4 rigs to 64 this week, which was down from the 181 rigs deployed there last year at this time..both the Permian basin of west Texas and the Marcellus shale of the northern Appalachian region saw three rigs pulled out; that left the Permian with 199 rigs, down from 481 rigs a year earlier, and left the Marcellus with 35, down more than half from the 76 rigs deployed in the Marcellus the same week last year...two rigs were removed from both the Williston basin of North Dakota and the Mississippian of southwest Kansas; that left the Williston with 45, down from 153 rigs a year earlier, and the Mississippian with 10, down from 63 rigs at the end of the same week a year ago...single rig reductions were seen in the Arkoma Woodford of Oklahoma and the Barnett shale of the Dallas area of Texas, leaving the Arkoma Woodford with 7, still up from 5 a year earlier, and the Barnett with 4, down from 25 a year earlier...basins that saw drilling rigs added this week included the Cana Woodford of Oklahoma, where 2 rigs were added to bring their total to 39, still down from the year earlier 44, and the Utica shale of Ohio, where the addition of one rig brought the count up to 14, which was still down from the 46 rigs deployed in the Utica the same week a year ago..
the Baker Hughes state count tables show that Texas got rid of another 7 rigs this week, leaving 294 still drilling, down from 753 at the end of the same week last year...Pennsylvania saw 3 of its rigs removed, leaving 23, down from 53 rigs working on the 23rd of January last year...Kansas, New Mexico, and North Dakota each saw 2 rigs pulled out and stacked; that left Kansas with 10 rigs, down from 23 a year earlier, New Mexico with 30 rigs, down from last year's 89, and North Dakota with 45 rigs, down from the 147 that were drilling in the state in the same week a year ago...Alabama saw an offshore drilling rig removed from its waters; that left Alabama with a single rig on land, down from 7 land based rigs working in the state a year ago...and California also got rid of a rig this week, which left the state with 7, down from 15 a year ago...meanwhile, Alaska added 2 rigs, bringing their count back up to 11, the same as a year ago, and Illinois, Ohio and Mississippi all saw the addition of one rig...for Illinois, the new rig was the only rig, although they also had one working in the state a year earlier; Ohio's count was back up to 14 rigs, but still down from 44 a year ago, while Mississippi ended the week with 6 rigs, down from 9 on January 23rd of 2015....finally, in Louisiana, 4 drilling platforms went into operation offshore in the Gulf at the same time 4 land based rigs, two in the north and two in the south of the state, were removed; that left the Louisiana rig count unchanged at 54 rigs for the week, but still down from the 110 rigs that were working the state during the same week a year ago...
much more here...