well, here we go again…two weeks ago Congress opened the floodgates for exports of our crude oil, and this week our domestic natural gas began to be processed for shipment overseas...the first batch of US fracked gas is now being chilled to a liquid and prepared for shipment to Europe on a LNG tanker that is under contract to BG Group (British Gas), which has recently been bought out by Royal Dutch Shell...Cheniere Energy, a developer of new LNG export terminals, is now receiving about 50 million cubic feet of natural gas a day at its Sabine Pass terminal near the Louisiana-Texas border where the gas is being liquefied at -260°F, reducing its volume by 600 to 1, and being stored in dockside tanks, from which it will be loaded onto ocean going tankers as soon as next week...unlike oil, where there is parity between US and global prices, the economics strongly favor increasing gas exports, as we repeated warned during the TPP negotiations, when natural gas prices in Asia were more that 5 times those of the US....both US and global gas prices have since collapsed, but recently Japanese LNG import prices have still been as high as $9.00 per mmBTU as European Union natural gas import prices have fallen to $6.24 per mmBTU from their high of $12.88...contracts for delivery of US gas, meanwhile, have fallen even more, with US natural gas prices hitting an all time low of $1.75 per mmBTU just two weeks ago...with the influx of cold weather in the east and the news of exports, they have since rapidly risen to $2.337 per mmBTU, but with European prices still more than twice that and Asian prices nearly 4 times that, there's still plenty of profit to be made after paying for the processing and shipping...a Bloomberg New Energy Finance analysis expects that we'll be exporting 7.76 billion cubic feet of gas a day by 2019, by which time we can expect the frackers will have become profitable and be drilling everywhere imaginable, while US consumers will be paying at least as much as Europeans to heat their homes...
meanwhile, while gas was being prepared for shipment at Sabine Pass, the first outbound tanker full of US crude since the export ban ended left Corpus Christie on Thursday heading for Europe, after being filled with light South Texas Sweet that had been extracted by fracking the Eagle Ford shale....this initial oil export shipment, loaded on the Bahamian tanker "Theo T", is being bought from ConocoPhillips and NuStar Energy by the Vitol group, a Dutch oil trading company, and is destined for a refinery in Switzerland...NuStar Energy has reversed two pipelines that once carried imported crude inland and is expanding it's Corpus Christi facility to have a capacity to load up to 90,000 barrels of Texas crude per hour for export...for this first export shipment, we even have instructions for those who want to track this tanker as it makes its way across the Atlantic to a port in Italy, where it will be offloaded for shipment to Switzerland...despite the fact that a similar high quality light sweet grade of oil is available right across the Mediterranean Sea in Libya, these Europeans are still electing to buy more of this oil from the US -- the tanker we mentioned last week; a 600,000 barrel shipment that is being loaded in Houston, was also sold to Vitol, and will likely depart for Europe next week...
A Bit on Saudi Finances...
the key series of news stories from the past week that will have the greatest long term impact on the global oil markets came out of Saudi Arabia, and none of those stories were even about their oil production...first we learned that the Saudis had posted an $98 billion budget deficit in fiscal 2015, obviously due to this year's drop in oil prices....that deficit amounted to about 15 percent of their gross domestic product for the year, less than the 20% deficit that was widely expected...for a perspective on the relative size of that, our largest budget deficit, in fiscal 2009 (starting October 2008), was about 10% of our GDP...although the Saudis drew down on some of the reserves that they'd accumulated over the years to cover the shortfall, much of their deficit this year was financed the same way the US finances its own deficit every year; the Saudis issued sharia-compliant bonds on at least three occasions this year, denominated in riyals and carrying low interest rates, most of which they sold locally to cash rich Saudi banks...the point is that this was all done without any major economic dislocation; showing the Saudis are handling the oil price crash better than was expected, and that life in Saudi Arabia went on much as it did before, just like life in our oil dependent states of North Dakota and Alaska has gone on, despite lower oil prices...
more importantly, however, the Saudis coupled their budget announcement with one of a forthcoming radical fiscal austerity program, including an increase in gasoline prices, an increase in electricity charges for the wealthiest consumers, a modest increase in water costs for everyone, and increases in energy prices for industrial users, such as refineries and petrochemical operations; they also plan to begin dismantling their welfare state, cutting out some of the freebies and perks they initiated after the Arab spring, and plan to gradually privatize some state-owned entities, introduce a value added tax, and levy a tax on tobacco...although some of these changes will be phased in over a period of 5 years, the immediate impact will be to cut their fiscal 2016 spending by 14%, to 840 billion riyals ($224 billion), from 975 billion riyals last year...
to put these budget cuts in further perspective, included below is a graphic from Haver Analytics and BofA Merrill Lynch, sourced from an article at Zero Hedge which shows how long it would take the Saudis to burn through their foreign exchange (FX) reserves under various oil price and budget scenarios, which was compiled before these budget cuts were announced...the graphic is divided into three basic sections, the first for oil prices at $30 a barrel, the second for oil prices at $40, and the last for oil prices at $50 a barrel...within each of those oil price scenarios, they show as a dark blue bar the number of years that the accumulated Saudi deposits to their sovereign wealth fund (SAMA, or the Saudi Arabian Monetary Agency) will last with a variety of budget and fiscal funding scenarios...to walk through what's on that graph, "flat" in each case would represent how long Saudi reserves would last with no change in the Saudi budget, "without one-offs" would represent a budget scenario where they return to their pre-Arab spring spending, before they started passing out freebies to their citizens, which would amount to a 4% budget cut, and the next two bars in each group represent how long they could continue living off their accumulated reserves under 10% and 25% budget cuts...furthermore, within each of those 4 scenarios for each of the 3 varied oil price situations, the graphic is further divided into how long their reserves would last if their reserves is all they use for funding, and how long their reserves would last if they financed 50% of their operations by issuing debt instruments...for an example, the 6th bar from the left shows that the FX reserves in the Saudi's sovereign wealth fund would last 4 years with oil at $30 a barrel and just a 10% budget cut, if they funded 50% of their ongoing operations by issuing bonds... extrapolating from the figures shown in that graphic, we could thus estimate that the Saudis could live on $40 a barrel oil with this newly announced budget for nearly 6 years before they deplete their sovereign wealth fund, if they fund half of their government spending with bond issuance...
now, all this is important because American frackers, and probably many of the banks that finance them, have been operating under the impression that the Saudis are up against the wall financially and ready to collapse...over the past year, some version of "the Saudis need $100 oil to break even" has been regularly reported in the mainstream and financial press, which has encouraged the frackers, and the banks that lend to them, to try to hold out just a bit longer, after which time they believe the Saudis and OPEC would relent and push oil prices higher, saving their skins...over this period, we've seen that most frackers lost money when oil was a $60 in the second quarter, and some even lost more than their revenues with with oil at $50 in the 3rd quarter, meaning they'd need to more than double revenues just to break even....that the Saudis are engaging in deep budget cuts that will impact every person and business in the country now shows that they are planning for oil prices to be priced low for quite a long time...some may think these cuts will bring about some kind of Arab spring type revolution in this Middle East kingdom, but we feel that's unlikely; oil prices have only been over $40 a barrel for the last dozen years, so except for the very young, most of the Saudi citizens have spent most of their lives living within the means that $40 oil provides the country...most of the frackers, on the other hand, have never seen real hardship; and very few have experienced a true oil bust, like we saw in 1986, when oil fell to $7 a barrel in a similar Saudi imposed global oil glut...if American oilmen were a bit more visionary and had a longer term outlook, they would have seen what is going on and would have pulled back long before now...
This Week's Oil Stats from the EIA
this week's reports from the US Energy Information Administration showed a large jump in our imports of crude and a small increase in our field production of it, so while our refineries stepped up the pace from last week, we still had plenty unused oil left over, leading to another increase in the surplus oil that we've got stored....for the week ending December 11th, our imports of crude oil rose by 291,000 barrels per day to a 7,892,000 barrels per day pace, which was 11.8% higher than the 7,061,000 barrels per day we imported in the same week of December last year...since the number of oil tankers offloaded in any given week makes imports fairly volatile week to week, the EIA's weekly Petroleum Status Report (62 pp pdf) reports a four-week moving average of oil imports, which have averaged about 7.9 million barrels per day in this week's report, 4.7% above the same four-week period last year...as we've pointed out previously, much of our increase in oil imports over the last year is not because we need the oil, but to exploit a contango trading strategy, wherein an oil trader will buy a cargo of oil and pay to have it stored while simultaneously entering into a contract to sell that oil at a higher price at some future date...
in addition to the increase in our oil imports, our field production of crude oil rose by 23,000 barrels per day, from 9,179,000 barrels per day in the week ending December 18th to 9,202,000 barrels per day in the week ending December 25th...although that was down 4.2% from our modern record oil production of 9,610,000 barrels per day that was set in the first week of June, it was still higher than the 9,121,000 barrel per day production we saw in the week ending December 26th last year, at time when almost three times as many oil wells we being drilled as today...as we've noted over the past few weeks, our oil production seems to be rising despite the cutback in drilling and the large number of wells that aren't being completed or fracked...this week, we'll include a few graphs of that, so you can see what it looks like..
the first graph above, copied from the EIA weekly US field production of crude oil webpage, shows the track of our oil production weekly over the last 21 years in thousands of barrels per day, with the spikes down likely representing periods when Gulf of Mexico production was shut in due to hurricanes, or other related disruptions...we can see that our output of oil was steadily falling through the previous decade, barely staying over 5 million barrels per day through the years between 2006 and 2009...then with the advent of fracking, brought on by cheap credit and extraordinarily high oil prices, our oil production has nearly doubled in the years since...however, on such a long term chart, it's difficult to see the changes in our output that have occurred over recent weeks...
so below we are including a graph of our weekly production from just the past year, which was sourced from Bloomberg by Zero Hedge...weekly crude oil production figures are tracked on the top part of the graph in blue, while the red bars on the bottom show the change in any given week as a increase when above the line and as a decrease when below it...here, we can clearly see when our crude oil production was at a record pace in June, and how it dropped off through late July and August to what some thought would be a long term decline...but even though our production averaged just over 9.1 million barrels per day through September and October, the output of US wells now seems to be rising, and has just topped 9.2 million barrels per day, even as oil drilling has almost ground to a halt, and as many of the wells that have been drilled are not being completed and are hence not yet producing...initially, we thought this was an aberration, and it may yet be, but now it has continued for 8 weeks...the real test will come over the next few weeks, when we get the returns on oil production from the snowbound oil fields of west Texas and New Mexico...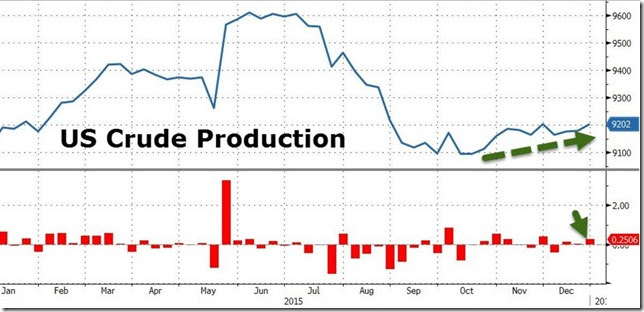 in the face of rising oil production and the large increase in imports, US oil refineries stepped up the pace after 3 weeks of lower throughput...the amount of that crude used by our refineries rose by 214,000 barrels per day to an average of 16,682,000 barrels per day during the week ending December 25th, up from 16,468,000 barrels per day during the week ending December 18th...that was 1.9% more than the 16,377,000 barrels per day refineries were processing in the same week last year and the most US refineries have ever processed during a week in December in the EIA record....much of this week's refining increase went into gasoline production, which was up by 575,000 barrels per day, or 6.2%, to 9,921,000 barrels per day, while output of distillate fuels (diesel fuel, heat oil) slipped by 11,000 barrels per day to 4,927,000 barrels per day...much of that additional production of gasoline seems to have disappeared going into year end inventory taxing time, however, as our week ending gasoline inventories only rose by 925,000 barrels to 221,240,000 barrels as of December 25th...that was about 3.3% less than the 229,048,000 barrels of gasoline we had stored as of December 26th last year, but still in the middle of the average range for end of year gasoline inventories...however, with record heat in the eastern US during that week, heat oil consumption was down, so even with the lower production of distillates, our distillate fuel inventories increased by another 1,795,000 barrels, as they rose from 151,315,000 barrels as of December 18th to 153,110,000 barrels on December 25th…that was 21.8% higher than last year's 125,721,000 barrels, leaving distillate fuel supplies well into the upper half of their normal range for this time of year...
even with this week's record level of refining for this time of year, however, we were overwhelmed by the incoming oil imports, which left us even more oil to put into storage than we had leftover last week...our stocks of crude oil in storage, not counting what's in the government's Strategic Petroleum Reserve, thus rose by 2,629,000 barrels to 487,409,000 barrels on December 25th, the 12th increase in the last 14 weeks...that's up by 33,440,000 barrels since September 18th, and leaves us with 102 million more barrels, or 26.5% more oil in storage, than the 385,455,000 barrels we had stored at the end of the last week in December a year ago, and obviously the most we had stored at the end of December in the 80 years of EIA record keeping, which had never seen more than 400 million barrels stored before this year...
The Latest US Rig Counts
with the new year holiday, the weekly US and Canadian rig counts from Baker Hughes were released on Thursday, instead of the usual Friday afternoon release, and since this release follows the early release last week on Wednesday December 23rd due to Christmas, it therefore covers the change in drilling activity over the ensuring 8 days.....over that period, from December 23rd to December 31st, the total count of rigs drilling for gas and oil in the US was down by 2 rigs to 698, with active oil rigs down 2 to 536, and working gas rigs unchanged at 162....those numbers were down from a total of 1,811 drilling rigs that were deployed on December 31st last year, when there were 1482 rigs drilling for oil, 328 rigs drilling for gas, and one drilling rig that was classified as miscellaneous, and represented the lowest rig count since 1999...oil rigs had hit their fracking era high at 1609 on October 10, 2014, while the recent high for gas drilling rigs was 356, and occurred on November 11th last year...
one drilling rig was added in the Gulf of Mexico during the past week, so the Gulf count is back up to 25; however, that's still down from 54 working in the Gulf and a total of 55 drilling offshore as of December 31st a year ago...that, plus a net of 2 additional conventional land based vertical rigs were added this week, bringing the vertical rig count up to 89, which was still way down from the 300 vertical rigs that were in use as of the end of December last year...meanwhile, a net of 5 horizontal rigs were stacked this week, cutting the count of those frackers down to 549, which was also down from the 1336 horizontal rigs that were in use the same week last year...in addition, the directional rig count was unchanged from last week's 60, down from the 175 directional rigs that were in use as of the 4th weekend of December last year...
rig count variances among the major shale basins again showed the Permian of west Texas with the largest change, as they added 5 oil rigs to bring their total rig count to 217, which was still down nearly 60% from last year's 530...the Haynesville, a natural gas field of northern Louisiana, also saw a rig added, bringing the count in that basin back up to 25, which was still down from the 40 rigs that were drilling in that region last December 31st...meanwhile, the Williston basin, centered in North Dakota, saw 2 oil rigs pulled out, leaving 53, which was down from 179 a year ago, and the Barnett shale of the Dallas area, the Eagle Ford of south Texas, the Cana Woodford of Oklahoma, and the Utica shale of Ohio all saw their rig count cut by 1...that left 7 rigs active in the Barnett, down from 24 a year earlier, 76 rigs working the Eagle Ford, down from the year earlier 200, the Cana Woodford with 38 rigs, down from 45 a year earlier, and the Utica with 15 rigs still working, down from 49 rigs that were drilling to it last year at this time...outside of the major basins, Baker Hughes reports an increase of 2 working gas rigs and a decrease of 4 active oil rigs, ending the year with 116 oil rigs and 49 gas rigs working outside of the major basins...that's down from a total of 466 rigs - 351 oil and 95 gas - working 'other' basins at the end of the same week last year..
the Baker Hughes state count tables show that both California and North Dakota saw 2 of their working rigs taken out of service this week, leaving California with 7 active rigs, down from 22 a year ago, while North Dakota now has 53 working rigs remaining, down from 169 a year ago...Ohio, Oklahoma, and West Virginia each saw one rig pulled out, leaving Ohio with 14 rigs, down from 46 a year ago, Oklahoma with 87 rigs, down from 209 a year ago, and West Virginia with 15 rigs still drilling, down from 28 a year ago....on the other hand, both Texas and Louisiana saw their net rig count increase by 2, bring Texas up to 321 rigs this week, down from 840 a year ago, and Louisiana up to 58 rigs, which was still down from their year ago count of 109....in addition, one rigs was added to those working in Pennsylvania, which now has 27, down from the 53 rigs that were deployed in Pennsylvania during the last week of 2014...
since we now have a 16 year low in the number of active rigs working in the US, we'll include below a long term chart of the total rig count so we can envision what that looks like...the graph below comes from WTRG Economics and shows the weekly rig count in red and the price of oil in light grey going back to 1973, with the rig count demarcated on the left margin and the price of oil demarcated on the right, although with so much data crammed on to a small chart the more nuanced changes are impossible to see...we can see, however, that the current active rig count of 698 has broken below the 2002 low and is now below 700 for the first time since 1999, when the rig count bottomed at 488...also fairly obvious on that chart is the domestic drilling frenzy that we were hit with in the 70s; that started with the OPEC oil embargo of 1973 and was accelerated by the oil crisis of 1979, when lines stretching blocks formed around open gas stations, and which finally peaked at 4,530 working rigs in 1981...back then, it almost seemed like everyone and his brother was trying to drill in their backyard, whether there were prospects for finding economic quantities of oil or gas or not...


(more here)