news of a new report on man-made induced earthquakes from the USGS was at the top of my news feeds all week, with coverage of it in not just the US media but also the global press...in this report, they expanded on their previous assessment of eastern and central US earthquakes that are being caused by high pressure injection of drilling wastewater underground, and endeavored to produce an earthquake hazards forecast for public use by everyone from insurance company actuaries to potential first responders, as they found that more than 7 million of us are at risk of damaging shaking from such quakes ....most of the press called these assessments new findings, but i'm sure you all recall the many times in the past where we've cited USGS designations of induced earthquakes...in fact, it was less than a year ago we went into detail about a similar USGS report which we sent out and posted under the heading "earthquakes induced by Lake and Ashtabula county injection wells are a threat to Perry Nuclear" which was our assessment of the risk at the time, not that of the USGS...however, in this year's seismic hazard assessment, the Perry nuclear power plant risk is included, and prominently featured on each of the maps showing the locations of the induced earthquake hot-spots in the US, a map of which we'll include below...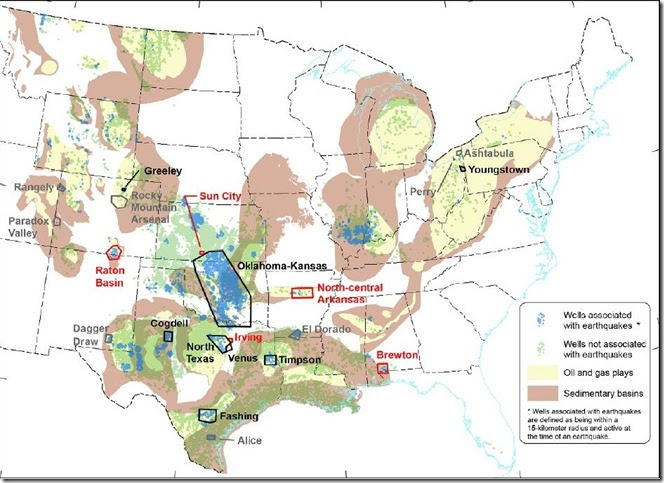 the above map of US zones of induced seismicity comes from page 11 of the new USGS 58 page pdf report titled 2016 One-Year Seismic Hazard Forecast for the Central and Eastern United States from Induced and Natural Earthquakes…the tan areas on the map outline major sedimentary basins in the US east of the Rockies, and the yellow shading indicates the areas of those basins that are currently being exploited for gas and oil…the map also shows the location of injection wells that have been associated with earthquakes in blue, and the location of injection wells that have not been associated with earthquakes in green…with the shades of those colors so close, it's difficult to distinguish between the two on this small map, but if you go to page 11 of the pdf and zoom in, you'd see that while most Ohio injection wells are green and hence not associated with earthquakes, one at Perry, two in Ashtabula, three in Youngstown, and a few elsewhere in the state are marked blue, meaning they have been associated with earthquakes…on page 9 of that same pdf, you'd see that the January 1986 earthquake that struck Perry is now considered "induced" by USGS, in contrast to the less certain designation of "potentially induced" by which some other earthquakes on that map are classified…
now, i know some of you have probably rolled your eyes each time i hyperbolically referred to Perry as a potential Fukushima on the shore of Lake Erie over the past several years, and i know my repeated return to that potential threat has probably seemed somewhat quixotic, but this week, in reporting on this story, even the Plain Dealer focused on the injection well threat to Perry, noting that in an assessment of US nuclear power plants after Fukushima, the Perry Nuclear reactor's risk of severe earthquake damage was found to be 24 times as high as previously thought; in fact, Perry Nuclear was found to be the US nuclear plant most likely to suffer core damage in an earthquake, a finding which was noted even before the USGS included the area as an induced seismic hazard zone in their seismic hazard model for 2014, the previously referenced 14.4 MB PDF report that was released last April…
while the USGS report was grabbing all the headlines this week, another report on induced earthquakes from scientists at Natural Resources Canada, the country's environmental regulatory agency, got much less press....their comprehensive study, published in the peer-reviewed journal Seismological Research Letters, looked at 12,389 fracking wells and 1,236 wastewater wells in Alberta and nearby British Columbia and found that it was the fracking itself, and not wastewater disposal, that was causing most of the induced earthquakes in Western Canada....they found that at least 39 fracked wells in Alberta and British Columbia were implicated in triggering about 65 earthquakes over the 5 years they studied...these weren't all minor earthquakes either; in January, quakes measuring between 4.2 and 4.8 magnitude originating from the Duvernay oil and gas field struck Fox Creek, Altberta, causing minor damage...while i didn't get into the details of this study, if these fracking quakes were anything like the Poland Ohio fracking quakes, geologists can be pretty sure when fracking itself is implicated...recall that on March 10th, 2014, a 3.0 quake struck the Republic Services' Carbon Limestone Landfill near Poland Ohio, at the exact same time and same depth (6300 feet) as the concurrent Hilcorp 7 lateral fracking operation...the industry friendly Kasich ODNR was so certain that the fracking had caused that quake that they shut down that operation permanently...so depending on the geology, we know fracking itself can certainly cause earthquakes, although they're rare compared to the wastewater injection induced variety...
The Latest Oil Stats from the EIA
our imports of oil moderated this week after last week's 33 month high, and with output of US wells continuing to decline while more of our oil was being refined, this week's addition to our record stocks of oil also moderated, even though it did set another record....this week's Energy Information Administration data showed our field production of crude oil fell for the 9th time in the last 10 weeks, dropping by another 16,000 barrels per day, from an average of 9,038,000 barrels per day during the week ending March 18th, to an average of 9,022,000 barrels per day during the week ending March 25th...that's 3.9% below our output of 9,386,000 barrels per day in the same week last year, and the lowest our oil output has been since the 2nd week of November 2014..
at the same time, our imports of crude oil fell back to an average of 7,748,000 barrels per day during the week ending March 25th, from the 33 week high of 8,384,000 barrels per day that we were importing during the week ending March 18th....but those imports were still 5.4% higher than the average of 7,348,000 barrels per day we were importing during the 4th week of March last year, and the 4 week moving average of imports reported by the weekly Petroleum Status Report (62 pp pdf) indicates our oil imports are still at the 8.0 million barrel per day level, 9.8% above the same four-week period last year...
there's been a interesting and noteworthy market dynamic influencing the ongoing elevated level of imports we've seen over the last 3 months, which have been far in excess of what we'd need to replace our slowly declining production...recall that in the week before Christmas, a provision to repeal the 40 year old ban on US oil exports was included in the fiscal 2016 budget bill at the behest of the oil companies, and that with much fanfare a few boatloads of light crude made their way to Europe in the weeks thereafter...before that ban was lifted, US oil prices as measured by the WTI benchmark price had been averaging $5 to $10 a barrel lower than the per barrel price for Brent, the global benchmark based on a North Sea grade of oil, as we showed with a graph at that time.....that price differential closed as it became apparent that the export ban would be lifted, and within a week thereafter, US oil prices had reached and then exceeded the level of global prices....that meant that US oil was no longer priced competitively against global grades of crude, and hence there was no incentive for European refineries to buy crude from us when they could buy it for less nearby, nor was there any incentive for Mexican and Canadians, who had already been importing our crude, to continue doing so...so as a result of the price change brought about by lifting the oil export ban, US oil exports actually went down, and are now 5% lower than they were at the beginning of the year...in fact, our exports of crude have only averaged 387,000 barrels per day so far in March, down 21.1% from the average of 490,500 barrels per day of crude we exported last March, and are at the lowest rate of crude exports since December of 2014...
a similar dynamic has been in part responsible for the increase in imports, over and above the contango trade we've discussed previously...most coastal US refineries had already been optimized to process various grades of imported crude, such as the heavy sour crude from Venezuela, whereas most of the crude produced from US shale basins has been ultra light and sweet, actually a better grade of oil, but not what our refineries were designed to use...while some refineries using heavy crude oils can use some lighter crude oils, especially when blended with other grades, those refineries are designed to run most economically with the heavier crude oils...so when fracking produced the glut of light crude at a price $5 to $10 a barrel lower than the global price, many of those refineries switched to using such lighter blends to take advantage of the large oil price differential...but now that that US oil prices have reached parity with global prices, there is no incentive for them to transport light crude from the center of the continent when discounted poorer grades are available to be imported dockside at a discount...for instance, refiners have been importing more heavy oil from Mexico and Venezuela, which has been priced about $9 a barrel lower than WTI...
the graph below, from Y-Charts, shows the Brent – WTI spread, or the difference in price per barrel between global prices and US oil prices over the past 5 years, wherein a higher international price is shown as a positive and a lower price internationally falls below the "0" line...thus we can see that early during the fracking boom, the US price for crude was driven as low as $25 a barrel below the global benchmark, and generally had remained near a range $5 to $10 cheaper over the 2 years prior to the lifting of the ban (the highest spread in 2015, of $11.85 a barrel on last February 24th, is shown in this snapshot)...although it's difficult to see on this static chart, the original chart is interactive, and by scrolling across it we can discover that Brent ranged from $2.04 higher to $1.28 a barrel lower than WTI since the beginning of this year, ie, generally not enough of a price differential to make trans-oceanic exports worthwhile at a time when the whole world is awash in oil...
US refineries did pick up the pace last week, as they processed an average of 16,234,000 barrels of crude per day during the week ending March 25, 414,000 barrels per day more than they were taking in a week earlier, and 3.2% more than the 15,728.000 barrels per day they were processing during the same week last year...the US refinery utilization rate rose to 90.4% during the week, up from the utilization rate of 88.4% during the week of March 18th, and up from the refinery utilization rate of 89.4% during the week ending March 27th last year...in 2015, refineries first reached 90% of utilization during the first week of April, so it appears that refineries are a bit ahead of schedule on switching over to summer blends this year...
even with more oil being refined, however, refinery production of gasoline fell for the 2nd week in a row, dropping to 9,430,000 barrels per day during week ending March 25th, from our output of 9,683,000 barrels per day during week ending March 18th...that output of gasoline was also down 3.1% from the 9,729,000 barrels per day we produced during the same week last year, although our totals for March and for the year to date are still running ahead of last years pace.....meanwhile, our refinery output of distillate fuels (ie, diesel fuel and heat oil) rose by 185,000 barrels per day to 4,927,000 barrels per day during week ending the 25th, which was also 69,000 barrels per day, or 1.4% higher than our distillates production during the same week of 2015...
the decrease in gasoline production meant that our gasoline inventories fell to 242,560,000 barrels by March 25, from the 245,074,000 barrels of gasoline we had stored as of March 18th...but this weeks stores were still 5.9% higher than the 229,128,000 barrels of gasoline that we had stored at the end of the same week last year, which were at the time the highest for the last weekend in March since 1993, and thus our gasoline stores are still well above the average range of their normal level for the last weekend of March…at the same time, our distillate fuel inventories also fell, despite the higher production, slipping by 1,075,000 barrels to a total of 161,185,000 barrels as of March 25th, as the week saw a return to a more normal demand for distillates...with the warm winter, however, our stocks of distillates remained well above the upper limit of the average range for this time of year, measuring 26.6% greater than the 127,174,000 barrels of distillates we had stored during the same week last year..
finally, even with the drop in imports and the pickup in refining, we still had 2,299,000 barrels of unused crude oil left over at the end of the week, and hence our stocks of crude oil in storage, not counting what's in the government's Strategic Petroleum Reserve, rose once again to a new record of 534,834,000 barrels as of March 25th, up from the record 532,535,000 barrels of oil we had stored on March 18th..that was 13.4% higher than the then record of 471,444,000 barrels of oil we had stored as of March 27th, 2015, and 40.7% higher than the 380,092,000 barrels of oil we had stored on March 28th of 2014....we've now increased our inventories of crude oil by by nearly 52.3 million barrels over the last 11 weeks, setting new records for the amount oil we had in storage in the US in each of the last 7 of them...
This Week's Rig Count
we also again set another all time record low in drilling activity in the US for the fourth week in a row, as Baker Hughes reported that their total count of active rigs drilling in the US fell by another 14 to 450 rigs as of April 1st, which was down from the 993 rigs that were deployed on Thursday April 2nd of 2015, and down from the recent high of 1929 rigs seen on November 21st of 2014... the count of rigs drilling for oil fell by 10 to 362, which was down from 802 a year earlier, and down from the recent high of 1609 working oil rigs that was set on October 10, 2014, while the count of drilling rigs targeting natural gas fell by 4 to 88, another record low, which was down from the 222 natural gas rigs that were deployed a year ago, and down from the recent natural gas rig high of 1,606 that was set on August 29th, 2008...
there were also a few changes in offshore rig deployments this week...first, there was new platform set up and drilling offshore of Alaska which wasn't there last week, which i've been told is for fracking off the Cook Inlet...on the other hand, 3 of the platforms working the Gulf of Mexico were idled, so the Gulf rig count fell to 24, down from 29 a year earlier...the total offshore count thus fell by two to 26, counting the rig set up offshore California last week, which was still down from a total of 31 rigs drilling offshore a year ago...
a net of 13 more horizontal rigs were pulled out this week, leaving the count of horizontal rigs at 346, which was down from the 799 horizontal rigs that were in use on April 2nd of 2015, and down from the recent record of 1372 horizontal rigs that were drilling on November 21st of 2014...at the same time, 3 directional rigs were also stacked, leaving 49 still running, which was down from the 93 directional rigs that were in use at the end of the same week a year earlier...meanwhile, a net of 2 vertical rigs were added, bringing the vertical rig count back up to 55, which was still down from the 136 vertical rigs that were in use the same week last year...
of the major shale basins, it was the Granite Wash of the Oklahoma-Texas panhandle region that saw the largest decrease this week, as they saw 4 rigs pulled out, leaving just 4, which was down from the 23 rigs working there a year earlier...then, the Permian basin of west Texas and eastern New Mexico, the Mississippian of southwest Kansas, and the Williston of North Dakota were each down by 2 rigs...that left the Permian with 145 rigs, down from 285 a year earlier, left the the Mississippian with 5 rigs, down from 40 a year earlier, and left the Williston with 29 active rigs, down from the 91 that were deployed there last April 2nd...a single rig was pulled out of the Cana Woodford of Oklahoma, where there are now 30 rigs still active, down from 40 a year ago, as was a single rig pulled out of the Appalachian Marcellus, where there are now 29 rigs working, down from 70 a year ago....meanwhile, the Ardmore Woodford and the Arkoma Woodford, both of Oklahoma, and the Eagle Ford of south Texas, each saw another rig added this week...that brought the Ardmore Woodford back up to 2 rigs, still down from 8 a year ago, brought the Arkoma Woodford up to 4 rigs, down from 6 a year earlier, and brought the Eagle Ford up to 42 rigs, which was still well down from the 137 rigs drilling in the Eagle Ford last year at this time...
the state count tables again indicated that Texas had the largest drilling rig decrease, as they saw 5 rigs pulled out this week, leaving 204 rigs still working, which is down from the 456 rigs that were working in Texas on April 3rd last year…Louisiana, with the loss of 3 offshore rigs, was down by a total of 4 rigs to 47 for the week, which was down from 67 rigs working there a year earlier...California, North Dakota, and Oklahoma each saw 2 rigs idled; that left California with 5 active rigs, down from 15 a year earlier, left North Dakota with 29 rigs, down from 90 a year ago, and left Oklahoma with 61 rigs, down from 129 a year earlier....Alaska, Kansas, and Pennsylvania were each down 1 rig; that left Alaska with 9 rigs, including the 1 offshore, left Kansas with 6 rigs, down from 12 a year earlier, and left Pennsylvania with 17 rigs, down from 50 a year earlier...on the other hand, New Mexicans saw 2 rigs added this week, which brought their count back up to 16, which was still well down from the 51 rigs working there a year ago at this time...a rig was also added in Utah, where there are now 2, down from 8 rigs a year earlier...and in Kentucky, where the state's only active rig was pulled out last week, saw it set back up this week, so they now have 1 rig active again, down from the 2 that were working that state a year ago at this time...
we'll wrap this up with a graph showing both oil production weekly (in blue) and the oil rig count weekly in red, going back to 2007, which comes from the Zero Hedge coverage of this week's rig count….notice that they pulled the rig count forward by 18 months, then jiggered the scale of both graphs on the right margin to make the two graphs line up over the 2007 through 2013 period, suggesting production is tracking the rig count…while there is a relationship between the number of drilling rigs deployed and future production, it's certainly not on a one to one basis as this graph seems to imply, nor would we expect US oil production to fall to below 6 million barrels per day 18 months hence, which the collapsing rig count line seems to suggest…

more here...